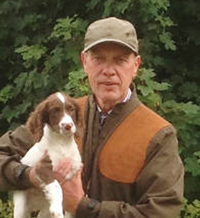 Kevin Doughty, England
Kevin Doughty has trained and handled dogs since 1976 when he won his first Field Trial award. Since then he has had considerable sucess with Labrador and Golden Retrievers. FTCh Hamford Zealot of Highsea's was Kevin's most consistent dog.
Kevin was appointed to the A panel in 1996 and has judged trials all over Great Britain, Ireland and Europe inluding judging the European Championships twice! He enjoys helping newcomers into the sport and in the summer months he holds training days at his training grounds, Highseas, for novice and open dogs and handlers.
An enthusiast of all field sports he lists trialing, picking up and shooting as his favourites.
Kevin and his wife Julie run a successful boarding kennels and cattery in Suffolk. Kevin always considers it an honour to be asked to judge these event's and is pleased to accept the appointment to judge the European Championships in 2018.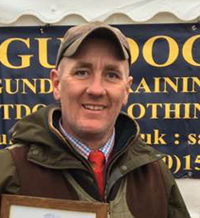 Mark Demaine, England
Claytonfell is the name of my kennel.
I have made up 2 FTCh in Uk Calderhey Adder and Leacaz Ricky if Caytonfell who was awarded 3rd in the IGL 2017. I have been a consistent member of the England team since 2010. I take training classes at home at my training grounds and travel abroad to do classes. I am an A panel judge. My passion is shooting and field trials.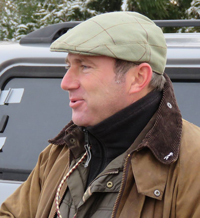 Oliver Kiraly, Hungary
I live in Jasd, Hungary with my wife, Veronika and with our two children, Benjamin and Magdalena. I work full-time as a professional retriever trainer, most of the year I'm travelling around and giving training seminars for retriever enthousiasts all over Europe. I also offer trainings on my ground, during Spring and Fall groups are coming to us for training holidays.
I started with goldens from american working lines, now I only have labs from british lines. I had great success with my dogs on tests and trials, unfortunately recently due to my busy work schedule I have very little time to run competitions. Winter is my off-season, so then I go picking up, shooting and trialling as much as I can. A couple years ago I started to breed under the "Kingsdale Meadow" prefix.
I judged tests and trials in almost every European countries. I was a founder of the Hungarian Working Retriever Club and the FT-WT secretary for the Hungarian Golden Retriever Club (GRK) and recently became a board member for the Syndicate of Hungarian Gundog Judges. I represented Hungary several times in big international events, such as the IWT or the Skinners World Cup.
It's a great honor to judge the ICC, Europe's most prestigious retriever event. I'm looking forward to meet Europe's top handlers and best dogs and wishing everyone the best of luck for the weekend!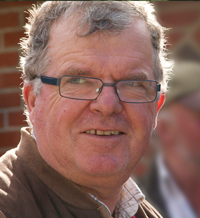 Keld Jørgensen, Denmark
I have been involved with training and trialing since 1982 when I bought my first labrador. My wife and I have bred labrador retrievers since 1988 with the prefix Lochiness and we breed one or two litters a year.
I very much enjoy training dogs,especially the young dogs. It gives me great pleasure to educate them to be proper shooting and perhaps trialing dogs. All our dogs are trained for shooting and in the season we are very busy shooting or picking up on local grounds. Great days I could not live without.
Outside the season I like to attend working and cold game tests both as a competitor and judging appointments.
In the shooting season I love to run my dogs in field trials. I qualified for the Danish championship 7 times with 6 different dogs. I have represented my country on Coupe d'Europe, ICC, IWT's, Skinners Cup and on Chatsworth in England.
I have been an authorized judge since 1991 and have judged many times in Denmark on WT, cold games tests and field trails and our championship several times. I have been invited abroad to judge Skinners Cup, Coupe d'Europe (twice), ICC and the Austrian-Hungarian Championship, Swedish championship and Norwegian championships several times. Besides that I have judged in Switzerland, Finland, Austria, Italy, Spain, Germany, Norway, Czech Rep. and Sweden.
In 2007 and 2014 I was in charge of organizing the IWT in Denmark and in 2009 for the Coupe d'Europe in Denmark.
I was president for the Danish retriever club for many years. At the moment I am vicepresident, chairman of the field trial commitee and member of the labrador breed commitee. Furthermore I am the Danish delegate in the FCI retriever commission.
Looking forward to seeing you in Denmark and all the best of luck to the competitors!